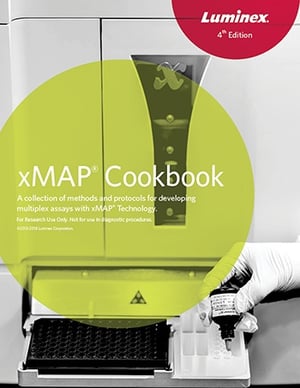 The xMAP® Cookbook is a collection of methods and protocols for developing multiplex assays on the xMAP platform. In it, you'll find:
Detailed instructions for designing, creating, optimizing, and validating your xMAP assays
Assay development guides for proteomic applications as well as genomic applications
A detailed list of common xMAP buffers
A comprehensive list of equipment needed to run xMAP assays
We'll also make sure to keep you updated whenever we release the latest protocols and methods for developing your assays on xMAP Technology.
Experience the benefits of xMAP Technology today, including:
Decreased turnaround time
Less required sample volume
Just fill out the simple form to the right to receive your free copy of the xMAP Cookbook.