Mark Your Calendars for xMAP® Connect Europe:
8-9 November 2017 in Amsterdam!
It is with much pleasure and excitement that we announce the 3rd xMAP® Connect, to be held in Amsterdam.
During the two-day program, you will hear about best practices from multiplex experts in various research applications, and you will also have the opportunity to meet a variety of xMAP users, including fellow researchers, Luminex Partners, and specialists.
Here is a look at last year's event:
Join us for the 2-day event, with dinner and drinks included!
Additionally, we would like to invite you to our social event on the evening of November 8th, where food, music, and science come together.
Make sure to grow your multiplexing network and register today!
If you have any questions, please contact us at europe@luminexcorp.com.
Dates:
8 November 2017 - 9 November 2017
Time:
09:00 - 17:00 (Central Europe Time)
Where:
West Indisch Huis
Haarlemmerstraat 75
Amsterdam 1013 EC
Netherlands
Program
Day 1: Wednesday 8 November
09:00–10:00
Registration & Coffee
10:00–10:15
Opening
Word of Welcome by Todd Bennett, Sr. Vice President of Global Sales and Customer Operations
Biomarkers and Immunology
Chair: Prof. G. Grech, University of Malta, Malta
10:15–10:50
R. Huber, MSc, ProteoMediX AG, Zurich, Switzerland — A Luminex-based Diagnostic Test Reduces Unneeded Prostate Biopsies and Improves the Detection of Prostate Cancer
View Abstract
10:50–11:25
Dr. S. D. Dowall, Public Health England, London, United Kingdom — Use of Multiplex Cytokine/Chemokine Assays for Pathogenesis Studies of Emerging Viral Diseases
View Abstract
11:25–12:00
Coffee Break
12:00–12:35
Dr. S. Azoulay — Development and Application of Multiplexed Immunoassay as Diagnostic Tool in Ecotoxicology
View Abstract
12:35–13:10
D. Wimbury — An Analysis of Serum Biomarkers in IgA Nephropathy
View Abstract
13:10–14:10
Lunch
Multiplex Screening
Chair: Dr. T. Joos, NMI, Reutlingen, Germany
14:10–14:45
Dr. R. Doffinger, Cambridge University Hospital, Cambridge, United Kingdom — Multiplexed Anti-cytokine Profiling in Human Disease
View Abstract
14:45–15:20
Ms. E. Kamburova, PhD, UMC Utrecht, Utrecht, The Netherlands — Development of a Multiplex Autoantibody Assay for the Screening of Renal Transplant Recipients
View Abstract
15:20–15:50
Coffee Break
15:50–16:25
J. Peters, Rikilt Wageningen University, Wageningen, The Netherlands — Development of an Antibiotics Screening Immunoassay and Its Validation in Raw Milk
View Abstract
16:25–16:50
Mr. H. D. Zucht, Protagen, Dortmund, Germany — Mining for Common Reactivity Patterns of Human Autoantibodies Against Endogenous Protein Targets Using Clustered Autoantibody Reactivities
View Abstract
16:50–17:00
Closure
17:00–18:00
Poster Presentations
18:00
Departure from "het West Indisch Huis" to Social Event Venue
19:00–00:00
Social Event
Day 2: Thursday 9 November
08:30–09:00
Registration & Coffee
Infectious Disease
Chair: Prof. I. Mueller, Pasteur, Paris, France
09:00–09:35
Dr. F. T. Hegge, Genetic Analysis, Oslo, Norway — A 50-plex Molecular Assay for Gut Microbiota Profiling
View Abstract
09:35–10:10
S. Faustini, PhD Student, University of Birmingham, Birmingham, United Kingdom — Using Various Immunological Assays to Assess Immune Responses to Pneumococcal Polysaccharide and Conjugate Vaccines in HIV
View Abstract
10:10–10:40
Coffee Break
10:40–11:15
Dr. M. Guatam, India Serum Institute, Maharashtra, India — Multiplex Assays in Quality Control of Multivalent Vaccines: Challenges and Opportunities
View Abstract
11:15–11:50
E. Germeraad, MSc, WUR, Lelystad, The Netherlands — Development of a Multiplex Serological Assay for Avian Influenza in Poultry
View Abstract
11:50–12:50
Lunch
Public Health
Chair: Dr. G. Rijkers, Roosvelt Academy / St. Antonius Hospital, Maastricht / Nieuwegein, The Netherlands
12:50–13:25
S. Bandiera, PhD, Sanofi Pasteur, Paris, France — Single Immunogenicity Potency Assay for Diphtheria, Tetanus, and Acellular Pertussis (DTaP) in Combination Vaccines by Luminex Serology
View Abstract
13:25–14:00
L. Grignard, PhD, London School of Hygiene and Tropical Medicine, London, United Kingdom — 25-Plex Malaria MagPlex-TAG™ Assay to Detect Human Host and Parasite Genetic Markers
View Abstract
14:00–14:30
Coffee Break
14:30–15:05
Mr. E. Lonnblom, Karolinska Institute, Solna, Sweden — Luminex-based Diagnostic Kit for Rheumatoid Arthritis
View Abstract
15:05–15:30
Ms. A. Bell, Publich Health England, London, United Kingdom — Automated Bead Coupling by KingFisher Within Pneumo Serotyping Assay
View Abstract
15:30–15:45
Top 3 Poster Presentations
15:45–16:00
Wrap up — Poster Awards
16:00–17:00
Drinks
Social Event: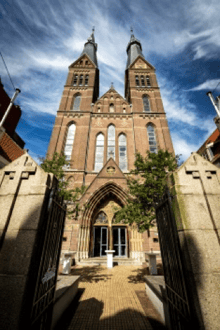 What's more fun than processing the lectures of the day while enjoying food and drinks with your new multiplex friends? Dinner and refreshments are included, and the dress code is business casual. Don't miss the opportunity to grow your multiplexing network and register today!

The social event will take place on Wednesday 8 November at The Posthoorn Church in Haarlemmerstraat, which is located 5 minutes from the West Indisch huis; dinner and refreshments are included. The former church is now used for events such as formal dinners, wedding, and meetings.

Click here to learn more about the church's rich history.
Venue
West Indisch Huis owes its name to the Heren Negentien (the Lords Nineteen) who held the fort of the West India Company. While in this building, they made the decision to build a fort on the island Manhattan, which helped establish the New York we know today.
With its enclosed courtyard and four stylish parlors and reception rooms, West Indisch Huis is the perfect place for us to host xMAP Connect 2017. We look forward to seeing you there.
Address:
West Indisch Huis
Haarlemmerstraat 75
1013 EC Amsterdam
Directions & Transportation:
From Schiphol Airport:
A direct link railway line connects Schiphol Airport with Amsterdam Centraal (Amsterdam Central Station) and is the fastest and most convenient form of transport to the city centre. Trains run every 10 minutes from platforms 1 and 2 in the main arrival plaza.
To plan your journey upfront, visit http://www.ns.nl/en/travellers/home.
Please note that train tickets can be purchased from counters at the train stations and ticket vending machines (with coins or ATM/Credit Cards). Be aware that return tickets are only valid for the same day as departure.
Public Transport:
From Amsterdam Central Station, it is a 5-minute walk.
Create your travel plan upfront via 9292ov.
Parking:
If you need to park your car, we recommend parking at the parking garage under "P1 parking'. The entrance to the garage is located on Prins hendrikkade 20A. Parking costs €5,00 per hour or €55,00 for a whole day. This car park is only a 5-minute walk from the venue.

You can also park your car at "Parking centrum Oosterdok," Ooksterdokstraat 150. This is a 20-minute walk but parking costs are €40,00 per day.
From Door to Door:
Scientific Posters & Abstracts
As an attendee of xMAP Connect 2017, you have the opportunity to have a poster on display and potentially win the "Best Poster Award 2017."
Guidelines for Abstract Submission:
Prepare a presentation title. The title you submit should be suitable for published material.
Abstract text is limited to 3000 characters (approximately 500 words).
Must include a statement as to how xMAP® Technology has enabled your research.
Include these four core elements in the abstract:

Background and Aim
Methods
Results
Conclusions

Please ensure the submission has been approved by all authors.
By submitting an abstract, you agree to be present on the 8th and 9th of November at the Congress, should your abstract be selected.
Poster Guidelines:
Maximum poster surface area (orientation portrait): 150cm height x 90cm width.
Recommended poster size A0 format (120cm height x 84cm width).
Use graphs, charts, and/or tables.
Use the materials provided to affix your poster to the display board.
Removal and collection of posters at the end of the Congress remain the responsibility of the author(s). Posters not removed at the end will be collected by the Luminex event team.
Click here to submit an abstract.
Luminex Partners
xMAP Connect is possible thanks to the generous support from our Partners.