Mark Your Calendar for xMAP Connect Amsterdam's Anniversary Year! Tuesday-Wednesday, November 5-6, 2019

It is with much pleasure and excitement that we announce the 5th xMAP® Connect, to be held in Amsterdam.
During the two-day program, you will hear from multiplex experts about their best practices on various research applications and have the chance to meet with fellow researchers, Luminex Partners, and specialists on site.
Registration for xMAP Connect includes food and beverages.
Additionally, we would like to invite you to our social event on the evening of November 5th, where food, music, and science come together.
Make sure to grow your multiplexing network and register today!
Event Location:
When: Tuesday and Wednesday, November 5-6, 2019
Time: 09:00 – 17:00 (Central Europe time)
Where: RTI Royal Tropical Institute
Mauritskade 63 1092 AD
Amsterdam Netherlands
Planner: xMAP Connect Event Team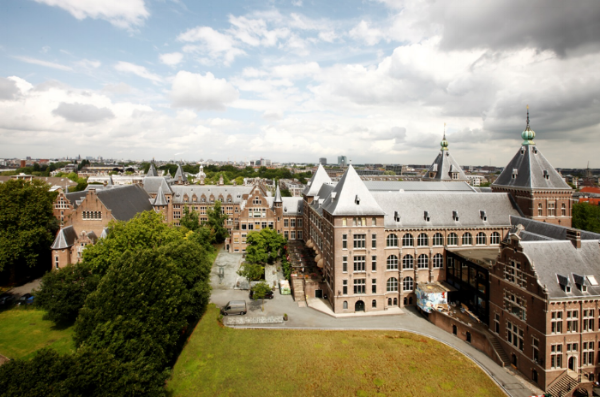 RTI was founded in 1910 on the initiative of a number of large companies, with government support, making it an early example of a public-private partnership.
Since 1926, RTI has been housed in a historic, neo-renaissance building at the edge of the Oosterpark specially designed by the architect J.J. van Nieukerken and his sons.
The building has been designated as a national monument and is richly adorned with decorative features and symbols referring to different cultures of the world.
2019 Sessions:
Program
Day 1: Tuesday 5 November
Immunology & Biomarkers
10:15–10:50
Berent Prakken, PhD - UMC Utrecht — Traveling into the unknown: challenges and opportunities for 21st Century Translational Medicine
10:50–11:25
Nicole Schneiderhan-Marra, PhD - NMI — Quality Aspects and Applications for Multiplex Immunossays
11:25–12:00
Coffee Break
12:00–12:35
Stephan Michalik, PhD - University of Greifswald — Deblurring Serological Data With the xMAPr Approach
12:35–13:10
Andreas Kaufmann, PhD - Charité University Hospital — Comprehensive cervical cancer screening by multiplexed HPV and biomarker mRNA detection using the Quantigene 2.0 platform
13:10–14:10
Lunch

Drug & Vaccine Development

Chair: Thomas Joos, PhD - NMI
14:10–14:45
Antonia Vestweber, M.Sc. - TRON GmbH — How Sweet Can Multiplexing Be? Profiling Cancer-Related Autoantibodies using Glycan-Coated Microspheres
14:45–15:20
Paul W. Rhyne, PhD - Immunologix Laboratories — Cellular Fingerprint Assay – A Perfect Tool for Early Drug Discovery
15:20–15:50
Coffee Break
15:50–16:25
Michael-Christopher Keogh, PhD - EpiCypher — High-Throughput assessment of ChIP-grade capability with Luminex xMAP technology
16:25–17:00
Tom Hall - St. George University London — Using a Multiplex Suspension Bead Assay to Establish a Serocorrelate of Protection for Group B Streptococcus Disease
17:00–19:00
Poster Sessions
19:00– 0:00
Social Event
Day 2: Wednesday 6 November
Infectious Diseases
Chair: Tim Waterboer, PhD - DKFZ Heidelberg
10:00-10:35
Petr Kralik, PhD - Veterinary Research Institute — Direct Detection and Typing of Variety Pathogens Important for Human and Animal Health Using xMAP Technology
10:35-11:10
Kevin Tetteh, PhD - LSHTM — Developing novel serosurveillance tools to monitor declining infection in the malaria elimination age
11:10–11:40
Coffee Break
11:40–12:15
Ahidjo Ayouba, PhD - IRD — Home-made xMAP Assays for Multiplex Detection of Viral Infections in Wildlife and Humans in Africa
12:15–12:50
Cécile Boland, PhD - Sciensano — The AMR-ARRAY, a 55-plex Luminex® MagPlex-TAG Bead Array for Detection of Genetic Determinants of Resistance to Beta-Lactams, (Fluoro) Quinolones and Colistin, Aminoglycosides and Macroslides in Gram-negative Bacteria
12:50–13:50
Lunch Break

Emerging Applications

Chair: Godfrey Grech, PhD - University of Malta
13:50–14:25

Gilles Foucras, PhD - École Nationale Veterinaire de Toulouse — Development of a bovine/ovine cytokine 15-plex assay for immunoprofiling of the cellular response

14:25–15:00
Jeroen Peters, BSc - RIKILT Wageningen — Development of xMAP based assays for food and environmental safety
15:00–15:30
Coffee Break
15:30–16:05
Wim Schielen, PhD - BioVet Europe — Multiplexed ELISA technology: Successful MFIA applications in the Swine Industry
16:05–16:30
Wrap-up

Submit Your Scientific Posters & Abstracts
Luminex is seeking abstract submissions for poster presentations at xMAP® Connect 2019. Please submit your abstract to the left. Please follow the guidelines below and this outline.
Guidelines for Abstract Submission:
Abstract text should include all the items listed below and is limited to 3,000 characters (approximately 500 words) not including spaces:
A title
The author(s) and institution(s) involved in your proposed article
An introductory sentence indicating the purposes of the study
A brief description of pertinent experimental procedures
Which xMAP product(s) are used in your method
A summary of the new, unpublished data
A statement of the conclusions
A statement as to how xMAP Technology has enabled your research
If you have any questions about xMAP Connect, email europe@luminexcorp.com.
Click here to learn more about xMAP Connect 2019 in Amsterdam.
Please note the deadline for abstract submission is 2 September, 2019.
Hotel Accommodations:
Hotel Hyatt Regency
Awarded for its refreshing sustainable 'living' décor, five star Hyatt Regency Amsterdam offers spacious botanical inspired guestrooms, relaxing public spaces, a 24H Fitness Centre and Mama Makan Indonesian Restaurant, Bar & Terrace. Located in the city centre, bordering the trendy east neighbourhood, the vibrant hotel seamlessly connects business with pleasure and the city with nature.
The Manor Hotel
The most beautiful hotel in the East of Amsterdam, that's how The Manor is known. Where The Manor previously fulfilled a role as a civilian hospital and district office, today it's known as a full service urban boutique hotel.

Hotel Arena
Hotel Arena is situated at the edge of the city center of Amsterdam and is accessible through Oosterpark. The hotel is situated in a monumental building, which was built in 1888. Throughout the years, the building has been transformed from a Catholic orphanage to a four-star hotel.
Amsterdam Tropen Hotel
If you listen carefully you can hear the elephants in Artis Zoo. Or maybe that is just your imagination. Gazing across the green park, wide lanes and the awe-inspiring building of the Royal Tropical Institute, everything seems possible. The world at your feet – or at least east of Amsterdam. The view from Amsterdam Tropen Hotel is impressive. The city at its most beautiful, ready to be discovered.
Generator Hostel
Generator Amsterdam is located in the up-and-coming eastern side of the city, overlooking Oosterpark. This former zoological university building can accommodate 564 guests in 168 twin and quadruple rooms, with en-suite bathrooms and incredible views of the surrounding area. There is also one luxury apartment for six people, with views of the park and a self-catered kitchen. It has flexible and spacious social areas, filled with creative design touches like glass-fronted elevators, a light and airy café and an outdoor terrace.

Social Event:
What's more fun than processing the lectures of the day while enjoying food and drinks with your new multiplex friends? Dinner and refreshments are included, and the dress code is business casual. Don't miss the opportunity to grow your multiplexing network and register today!
This year's social event will take place at the:
Hyatt Regency
Sarphatistraat 104
1018 GV Amsterdam
Start time event 19.30