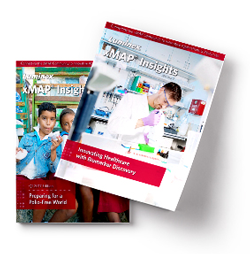 Welcome to xMAP® Insights.
We've set out to create a quarterly magazine that connects you to the multiplexing community by sharing innovative applications of xMAP Technology and providing valuable resources to catalyze your next experiment.
These issues contain some or all of the following sections:
Connections – spotlights trending research and emerging opportunities
Collaboration – summarizes recent breakthrough applications and method publications
Community – profiles members of the multiplexing community
Curiosity – stimulates your imagination with resources, new product overviews, and upcoming learning events
Subscribe today to be sure you receive all future issues of xMAP® Insights.