---
Immunology Workshop
High Sensitivity Flow Cytometry Enables Extracellular Vesicle Immunophenotyping
Friday, May 10, 2019 l 10:00-10:45 a.m.
San Diego Convention Center; Room 1A
Speaker: Haley Pugsley, PhD, Senior Scientist, Luminex Corporation
The Amnis® CellStream® benchtop flow cytometer from Luminex is a highly-customizable and compact system that is the first to use a camera for detection. Its unique optics and design provide researchers with unparalleled sensitivity and flexibility when analyzing cells and submicron particles.
Only recently has the importance of extracellular vesicles as key mediators of intercellular communication been appreciated. Quantifying and characterizing extracellular vesicles in a reproducible and reliable manner has been difficult due to their small size (30 – 100 nm in diameter).
Join us in this workshop to learn more about how the unique Amnis Time Delay Integration (TDI) and camera technology inside the CellStream System enable immunophenotyping of extracellular vesicles.
xMAP® Instruments
Tired of profiling proteins one at a time?
Using traditional analysis techniques like ELISA and Western blot is time-consuming and requires significant sample volumes. These constraints often limit the number of targets you can evaluate in a study.
What if you could test up to 500 analytes in the same time it takes to run a single ELISA, with a single aliquot of sample? Move from multiple assays to one assay with multiplexing.
Watch this video to learn more about how xMAP multiplexing technology and instruments can help you meet your plex, budget, and throughput needs.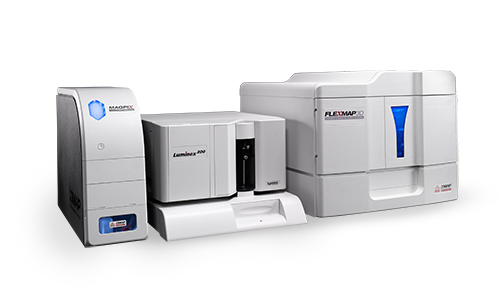 These products are for Research Use Only. Not for use in diagnostic procedures. Please contact Luminex at support@luminexcorp.com to obtain the appropriate product information for your country of residence.