In response to the global outbreak of the novel coronavirus disease (COVID-19), Luminex has developed multiple solutions to enhance our NxTAG® and ARIES® offerings in order to automate and facilitate the detection of coronavirus.
As a high-throughput, more comprehensive option for high-complexity labs, we have developed the NxTAG® CoV Extended Panel, which can detect SARS-CoV-2, and have received Emergency Use Authorization (EUA) from the US FDA and Medical Device Authorization for Importation or Sale for Health Canada.
The NxTAG® CoV Extended Panel was developed for use on the MAGPIX® System, and offers:
A highly scalable, cost-effective solution that can process up to 96 samples in approximately 4 hours.

SARS-CoV-2 detection using three viral genes (ORF1ab, E gene, and N gene), enabling sensitive and reliable results.

The flexibility to run tests in any combination—use the NxTAG CoV panel as a standalone test to detect
SARS-CoV-2, detect 20 other common respiratory pathogens with the NxTAG® Respiratory Pathogen Panel (RPP), or run both tests in parallel for a complete picture of a patient's respiratory health.
For more targeted coronavirus testing in moderate-complexity labs, the ARIES® SARS-CoV-2 Assay is a sample-to-answer test that detects SARS-CoV-2 in nasopharyngeal swabs, and now has received an EUA from the FDA.
The ARIES® SARS-CoV-2 Assay offers:
Precise Results: A moderate-complexity, sample-to-answer test that enables targeted SARS-CoV-2 detection.
Fast Turnaround Time: Minimal hands-on time and an automated workflow delivers results in about 2 hours.
Robust Detection: Exonuclease-sensitive probes for the ORF1ab and N viral genes provide superior specificity.
Additionally, Luminex has LDT tools1 that can be used with the latest US CDC and WHO primer sequences to detect SARS-CoV-2, enabling users to develop their own LDTs on the ARIES® sample-to-answer system. Using this approach, labs have already validated their own ARIES®-based, multi-target tests.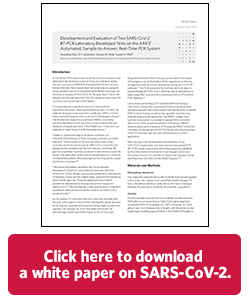 A targeted SARS-CoV-2 LDT testing strategy using the ARIES® System offers:
Lab-specific testing, including the ability to develop a targeted test for SARS-CoV-2 detection.

Customized workflows, allowing users to develop, validate, and automate assays under the recently released EUA path.
Watch this video to see how to run the ARIES® SARS-CoV-2 Assay: